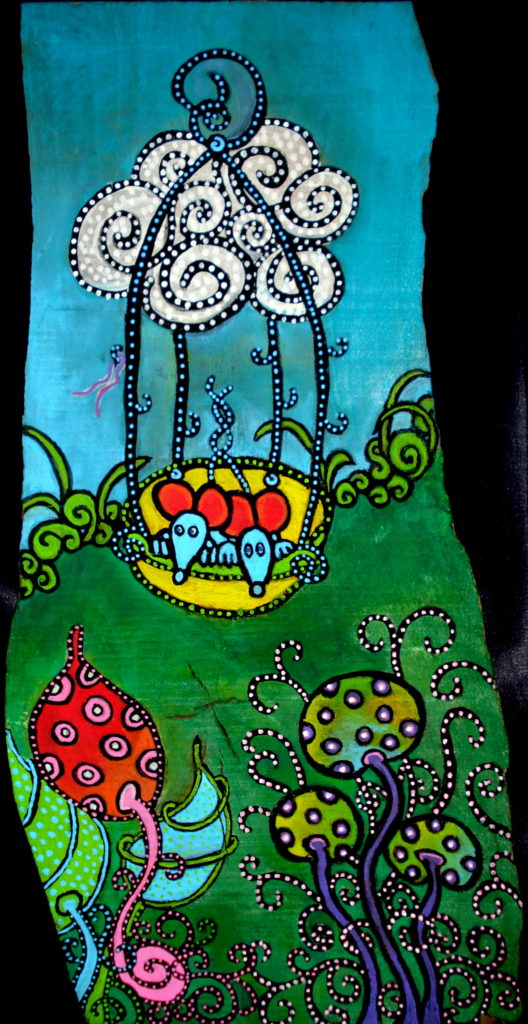 Mijn kinderen waren altijd dol op verhalen en volgens mij zijn zij dat nu nog. Later woonden we in een huis waar nogal eens een muis door de openstaande tuindeuren de kamer binnen rende. Van die leuke veldmuisjes met grote oren. Heel soms troffen we wel eens een muis in de doos met granen vanwaar hij ons brutaal aankeek en ongestoord verder knabbelde.
Mes enfants ont toujours aimé les histoires et je pense qu'ils le sont toujours. Plus tard, nous avons vécu dans une maison où une souris courrait souvent dans la pièce par les portes ouvertes. Ces mignons mulots aux grandes oreilles. Très occasionnellement, nous rencontrions une souris dans la boîte de céréales d'où elle nous regardait d'un air effronté et continuait à grignoter sans être dérangée.
My kids have always loved stories and I think they still do. Later we lived in a house where a mouse would often run into the room through the open doors. Those cute field mice with big ears. Very occasionally we encountered a mouse in the box of cereals from where it looked at us cheekily and continued nibbling undisturbed.
Dit heeft mij geïnspireerd tot het maken van een schilderijenreeks met Jules en Tami in de hoofdrol. Twee muisjes die goede vrienden van elkaar zijn en samen vertrekken in hun wolkenballon. Zij komen op mooie plekjes en hebben bijzondere ontmoetingen.
Cela m'a inspiré pour faire une série de peintures avec Jules et Tami dans le rôle principal. Deux souris qui sont de bonnes amies et partent ensemble dans leur montgolfi`ère nuage. Ils visitent de beaux endroits et font des rencontres spéciales.
This inspired me to make a series of paintings with Jules and Tami in the lead role. Two mice who are good friends and leave together in their cloud balloon. They visit beautiful places and have special encounters.